Dog-gone FUN in Austin!!
30 May 2020
0 Comments
winston
Want something to do that can include "man's best friend"?  It's a beautiful day…temperatures in the low to high 70's and 80's, light breeze, brilliant sunlight…you've been cooped up for most of the wintery and rainy days, and now even your dogs want to get out and get the sun on their faces!  Austinintes love being outside, and whether your young, old, running, biking, hiking, walking or picnicking, you can include your dogs in your active lifestyle…because that's the Austin way!
The Austin Parks and Recreation Department has 12 off-leashed dog parks within the City of Austin, giving owners and dogs alike a choice in getting out and enjoying a beautiful Austin day.   Austin consistently ranks as one of the most dog-friendly cities in the nation, and with good reason.  There are the dog festivals, pet-friendly restaurants and hotels, and a progressive attitude towards animal rescue and care that helps make Austin one of the leaders of the pack.  It just goes to show you that "Austin hospitality" doesn't just apply to humans!
With 12 off-leashed dog parks in the Austin Parks and Recreation Department, dogs are welcome nearly everywhere on city property if they are on a 6 foot leash, including the luscious green grounds of the State Capital.  Though there are plenty of dog friendly areas in Austin, there is also a list of dog etiquettes and ordinances to be aware of in both on-leash and off-leash areas including:
Dogs must be within sight and sound control of Owners/handlers at all times
Dogs in heat are not allowed in off-leash areas
Rabies vaccinations are required for all dogs as required by State Law
Owners/handlers must clean up after their dogs and deposit waste into a trash can
Aggressive dogs much be removed from public spaces immediately
Do not leave a dog alone on a chain or tether
When not in specifically designated off-leash areas, the Austin leash ordinance requires dogs to be on a leash no longer than 6 feet on all City land.
Here are a few of the Austin Parks and Recreation Department's dog parks and a little about them.  The parks that are asterisked (*) are the ones that contain off-leash dog parks, and this list in no way includes all the parks where dogs are welcome.
*Auditorium Shores 920 W. Riverside Dr. 512-974-6700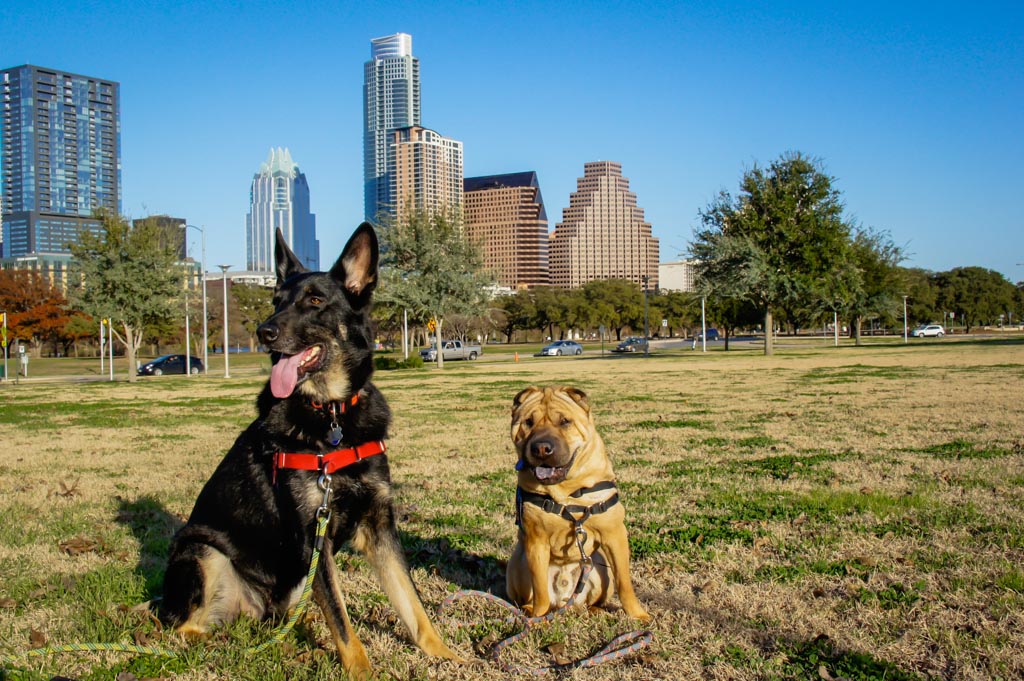 On the banks of Town Lake, just west of the First Street Bridge, lies a place bustling with activity. Auditorium Shores is an outdoor concert venue with an especially busy summer schedule, a place to catch the fireworks on the Fourth of July and the hub of Austin's most popular hike-and-bike trail.  If splashing and swimming is your dog's favorite thing, head for Auditorium Shores. Dogs here can dive in after balls and practice their belly flops into Ladybird Lake in the shadow of the city's skyline. This park is currently in transition with a major renewal effort and a new off-leash area under construction. A portion of the park is still accessible for off-leash play while the project is ongoing, and the new dog park is expected to be completed sometime in the summer of 2015.
Photo Credit:  GoPetFriendly.com
Ann and Roy Butler Hike and Bike Trail.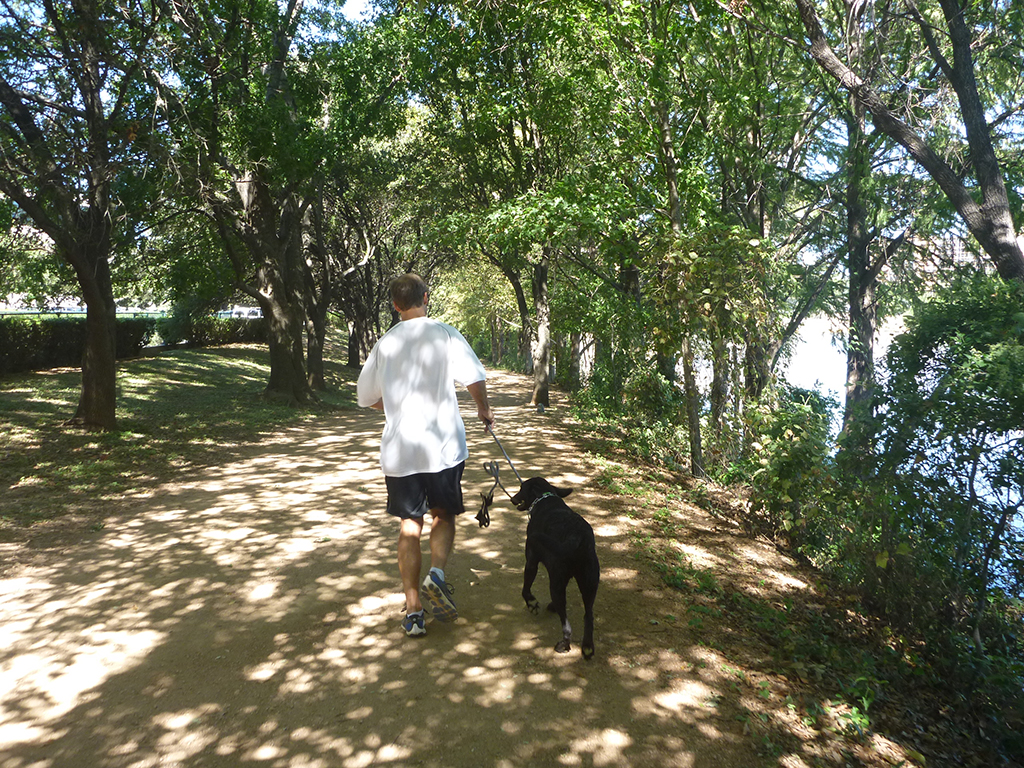 Few metropolitan areas boast more pet-loving, fitness-conscious folks than Austin and that's especially evident along the Ann and Roy Butler Hike and Bike Trail, locally known as the Town Lake Trail. (Lady Bird Lake was previously named Town Lake.) Residents and visitors alike enjoy trails in a range of terrains and difficulty levels, including the dog-friendly 10-mile Ann and Roy Butler Hike and Bike Trail around Lady Bird Lake. The loop includes two pedestrian-only bridges that are great for dogs and serves as a social hub for runners, walkers, cyclists and canines. A Memorial at Auditorium Shores honors the late bluesman Stevie Ray Vaughan.  And from March through early November, over a million Mexican free-tailed bats fly nightly from under the Congress Avenue Bridge – something both you and your dog will enjoy!
Barking Springs  2101 Barton Springs Rd.  (512) 867-3080.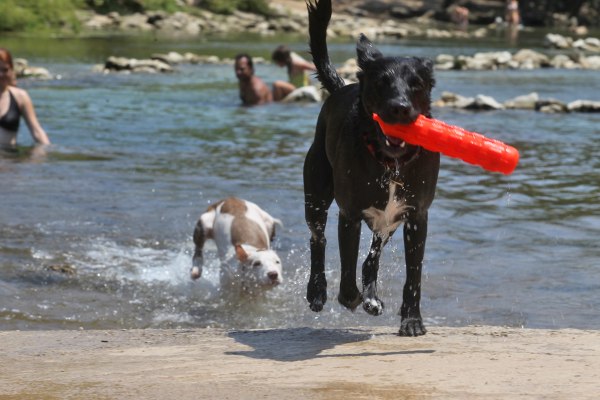 Just downstream from Barton Springs, a human-only swimming hole that's definitely one of the tops in the country, you'll find what's nicknamed "Barking Springs" for its popularity with four-legged water lovers. People and their pooches can swim together at the spillway for Barton Springs. The 68-degree, natural springs water is guaranteed to cool the hottest Austin day.
Barton Creek Greenbelt Preserve 3755 B Capital of Texas Hwy 512-472-1267
Are you more of the adventurous type? Explore Austin's beautiful Hill Country together via this popular greenbelt. The Barton Creek Greenbelt is an urban oasis. Its trails provide opportunity for biking, running, rock climbing, swimming and hiking.  Don't forget your suit – there are also several swimming holes along the creek for cooling off during the warm summer months. Dogs are allowed, but must on a leash. Some of the more popular access points to the trails are Zilker Metropolitan Park, and Loop 360 (south of MoPac/Loop 1).
Bob Wentz Park Bob Wentz Park Road Austin, Texas (512)854-9020
This 211 acre park is located in the basin area of Lake Travis in the scenic Hill Country of central Texas. Bob Wentz Park is a favorite location for water sports, especially windsurfing. The park's facilities and close proximity to Austin (approximately one-half hour's drive from downtown) make it attractive for picnicking, swimming, windsurfing, sailing, and scuba diving. The shoreline areas (including a sandy peninsula known as "The Point") are heavily used, while an adjacent 150-acre tract is maintained as a natural area. The park includes two sand volleyball courts, a shoreline walking path, a boat dock, and a pavilion available for rent. Pets are allowed in the park, but must be kept on a leash and are not permitted on The Point.
Bull Creek District Dog Park 6701 Lakewood Drive 512-974-6700
Bull Creek District Park covers 48 acres and 32 square miles of ecologically unique terrain. Bull Creek watershed includes limestone seeps, springs, and waterways; scenic cliffs and waterfalls; interesting archaeological and cultural features and so much more. This dog park is not fenced, but it has access to the creek for water-loving pooches and rocky ledges, hilly terrain and tall, majestic trees. Dogs can play and swim in the park, but must remain on a leash.
*Emma Long Metropolitan Park 1600 City Park Rd. (512) 346-1831
Set within an oak and juniper forest bordering Lake Austin, Emma Long Metropolitan Park is one the largest parks in Austin at almost 1,200 acres. It's just a few minutes' drive from downtown Austin, and easy to get to from RR 2222. The main part of the park, which is adjacent to the lake, features a well-equipped and well-used boat dock, as well as several swimming areas.  Follow scenic City Park Road down to the shores of Lake Austin, and spend the day swimming, water-skiing, picnicking, or camping.  The Leash free area is between City Park Drive, the west park boundary fence, Turkey Creek and the top ridge of the bluff line overlooking Lake Austin…gorgeous views surround you on the bluff!
*Northeast District Park 5909 Crystalbrook Dr.
Northeast Park is a great place for a neighborhood BBQ or a picnic. With a covered area to eat and plenty of trees for shade, it's perfect for a date, family outing or alone time. Located east of Ed Bluestein Blvd. (HWY 183) at the corner of Loyola and Crystalbrook. The park has a lighted basketball court, volleyball pit, 2 horseshoe pits and playground. One large outdoor pavilion is available for reservations and it will seat 84, and accommodate 100. There are 4 BBQ grills adjacent to the pavilion. The leash free area is between Crystal Brook Drive, the railroad right of way and Decker Lake Road.
*Red Bud Isle 3401 Red Bud Trail Unit Cr.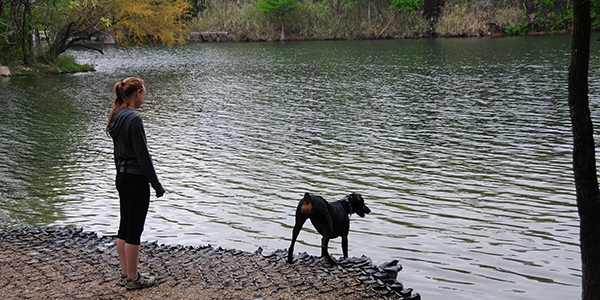 A literal oasis for dogs. Surrounded by water, this 13-acre leash-free dog park is a must-visit for any canine-lover. Dogs can romp, swim, and fish all under the comfort of shaded natural paths. Bring a towel – you both are bound to get a little wet and dirty. This park is on Town Lake, just below Tom Miller Dam, and is the entry point for the Redbud Trail. The park is a peninsula surrounded by the lake, and is a great place for water dogs.  The whole park is leash free!
*Shoal Creek Greenbelt 2600-2799 Lamar Blvd.
You haven't been in Austin long enough if you haven't seen Shoal Creek…or sat creekside while enjoying a cold drink at a local restaurant…or discovered fossils walking through the creek bed in Pease Park. Flowing through the heart of Austin, from Braker Lane down to Cesar Chavez St, Shoal Creek encompasses the beauty and stresses of an urban creek. As you walk along the crushed limestone, gravel and concrete trail, you will enjoy the shady trees and opulent green spaces. You are sure to find the perfect spot for a picnic or leisurely stroll with friends, your special someone, or your best bud (dog).  The portion of the trail from 24th Street to 29th Street is designated as a no-leash zone, and dog owners flock to the area on the weekends for the pure enjoyment of the area.
Town Lake 2100 Barton Springs Road 512-974-6700
This is a popular walking and swimming spot for people and dogs, and is one of Austin's top spots for dog-lovers of all breeds. The 10 miles of trails bordering Lady Bird Lake in downtown Austin serve as a social hub for runners, walkers, cyclists and four legged friends. There are many beaches located along the lake along with playgrounds, picnic tables, and restrooms, and think about renting or bringing a canoe or paddle board to go for an exciting journey on the lake. There are many access points to this park, including Zilker Metropolitan Park at 2100 Barton Springs Road. This IS NOT an off-leash park.
Walnut Creek Metropolitan Park
Walnut Creek Metropolitan Park is located in in east Austin.  Recent renovations to the trail have added a concrete walking and bike trail for everyone from the "young at heart" to the "still moving along" a way to enjoy the area. Southern Walnut Creek Trail is a nature lover's delight.  Encompassing more than 7.3 miles of multi-use trail running by trees, flatland, soft hills and water, This trail consists of 10-foot wide concrete paths designed to accommodate a variety of users, and the beautiful twisting and turning maze of trees and foliage is the city's newest recreation resource for hikers, joggers and bicyclists. This beautiful nature-filled trail extends from Govalle Park to the Walnut Creek Sports Park at Johnny Morris Road and Daffan Lane and includes 5 bridges, culverts, signs and benches offering a breath-taking view at every turn.  Town
Zilker Botanical Garden 2220 Barton Springs Rd. (512) 477-8672.Though not technically a park, Zilker Botanical Gardens allow leashed dogs in the multiple gardens that comprise these botanical gardens. Stroll through the Xeriscape Demonstration Garden to see the native plants that are tolerant of Central Texas's hot, dry summers. Nearby, keep Fido away from the spines at the Cactus and Succulent Garden filled with West Texas cactus and succulents. Blooming cherry trees fill the Isamu Taniguchi Oriental Garden in early spring while the Mabel Davis Rose Garden blooms throughout the spring. Your dog walk can also include the Herb and Fragrance Garden and the Hamilton Parr Memorial Azalea Garden, in bloom during March and April, and the Douglas Blachly Butterfly Trail, lined with local flowers and plants that attract numerous species of Texas butterflies.
*Zilker Dog Park 2100 Barton Springs Rd. 512-974-6700
Zilker Park is probably one of the best known parks in Austin.  With a scenic view of downtown across the lake, this dog park is not fenced, but well-behaved dogs can roam and play off-leash. It hosts rolling hills and beautiful trees as it runs along the waters of Lady Bird Lake, and on the weekends, it comes alive with impromptu games of football, soccer, Frisbee and catch, family picnics, runners,  and lots of four-legged friends enthusiastically getting into the thick of it all. The dog park is located in Zilker Metropolitan Park at 2100 Barton Springs Road.
Information in this article is not inclusive to all the dog-friendly parks and green spaces available to our four legged friends.  A special thank you goes out to the following websites where I found great descriptions and information and where you can find tons of information about where to have fun in Austin with your dogs:  Austin Parks and Recreation Department.